Conference Venue and Transport
About New Delhi, India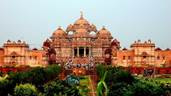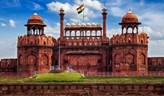 Welcome to the heart of the nation and capital of India, New Delhi. The city is popular for its enriched culture and heritage. The city hosts some famous historical monuments and is developing with the passing of time.
The influence of religious diversity can be seen in the city along with the cultural impact of the Mughal, the ancient Indian and the British. There are many beautiful gardens in the city, away from pollution and busy city life that provide opportunities to walk leisurely in the midst of greenery. The capital city is divided into two sections popularly known as Old Delhi or "Purani Dilli" and New Delhi or "Nayi Dilli".
Old Delhi
Mughal Emperor Shahjahan founded Old Delhi in 1639 which was formerly known as Shahjahanabad. Till the end of Mughal dynasty it remained the capital of the Mughals. During ancient times, the city was known for housing exquisitely designed mosques, beautiful gardens, and magnificent mansions of members and nobles of the royal court. Though this part of Delhi has become extremely crowded yet it symbolizes the heart of Delhi.
The Mughals built many palaces and forts in Delhi. The wall city was built by Shah Jahan in between 1638 to 1649, including the Chandni Chowk and the Lal Qila. The original cantonment of Delhi was at Daryaganj which later shifted to Ridge area. Old Delhi had the first wholesale market and the first hardware market was opened in Chawri Bazaar in the year 1840. Then the next wholesale market was opened at Khari Baoli which was of dry fruits, herbs and spices in 1850. Daryaganj also had a Phool Mandi (Flower Market), established in 1869. Though the area is small and densely populated it holds much importance.
The capital of India was shifted to Calcutta post 1857 revolt and after the fall of the Mughal Empire. It remained the capital until 1911. So, Lutyens' Delhi was developed after the change was declared. It was developed in New Delhi located south-west of Shahjahanabad. Therefore, the Old Delhi was named so and New Delhi was considered as the seat of national government then. In the year 1931, it was officially inaugurated. Some people moved out of the walled city by 1930s as it became congested and areas around the city were getting developed.
New Delhi
The remarkable Indian Capital was architecturally designed by the British architect Edwin Lutyens and was named after him. It has a pleasant contrast to the twisted streets of Old Delhi. Enriched with history and culture, the impressive avenues and imperial buildings of New Delhi are included in the list of attractions. Humayun's Tomb, Gandhi Ji's Delhi home, the site where he was assassinated are all located in New Delhi that draws a large number of tourists every year. Akshardham Temple, India Gate and Gurudwara Bangla Sahib are some of the major attractions of New Delhi.
Various shopping malls and local markets are there for the locals and the visitors, providing them a wide option to shop in the city. Other options of entertainment are also available in the city such as discs, cafes, cinema halls. Wide options for eating out in the city are there as the capital city houses numerous eating outlets and restaurants serving relishing and traditional cuisines.
Delhi is well connected with the neighbouring regions and other major cities of India through all modes of transport such as airways, railways and roadways. The traffic of New Delhi remains busy and chaotic because of increased population and vehicles. One needs to negotiate on fare for taxis and autos while hiring to travel within the city. One can also opt for the safest, convenient and quickest mode of transport - the Metro Rail to travel across the city and to its nearby regions. If you are planning to visit Delhi, know properly about the city before packing your travel bags.
Best Season to visit
The best time to visit is from October to March, with cold but sunny weather. Nights are quite chilly in December and January.
Climate / Temperature
Summer - Max.45°C, Min.27°C
Winter - Max.25.5°C, Min.4°C
Monsoon - Max 35°C, Min 25°C
Rainfall (Average) - 170 mm
Summer in Delhi is harsh - from April to june, the temperature climbs to more than 45°C and the heat continues in monsoon until October.
Local language
Although English is generally used for official and business purposes, Hindi is the official language and is spoken by most of the people. Punjabi and Urdu are also commonly spoken.
Sign Words
Just remember the golden words refer to yourself as hum and address people with a ji after their names, that should get you by most problems, but otherwise Hindi and Punjabi are the most widely spoken languages, and English is well understood. Car and auto drivers can normally speak in broken English, but speak to them in hindi and you will get a better rate.
Some Important Links:
Delhi Metro Map: http://www.delhimetrorail.com/Zoom_Map.aspx
Delhi Tourism: http://www.delhitourism.gov.in/delhitourism/index.jsp
About Venue: South Asian University, New Delhi
South Asian University (SAU) is an international university established by the eight member nations of South Asian Association for Regional Co-operation (SAARC) viz. Afghanistan, Bangladesh, Bhutan, India, Maldives, Nepal, Pakistan and Sri Lanka.
SAU started its operations from the academic year 2010 with an objective of equipping the young minds of South Asian region with world-class cutting edge knowledge and nurturing Regional Consciousness. The university now offers post-graduate and doctoral programmes in various disciplines that include Economics, Computer Science, Biotechnology, Mathematics, Sociology, International Relations and Law
Unlike the other universities in SAARC nations, SAU offers a unique blend of multicultural and cosmopolitan experience drawing students and faculty from across South Asia. SAU's distinct community of students and faculty make the campus enriched with diverse and innovative ideas, and also prepare the students to approach the world with a perspective that is distinctively South Asian, representing the aspirations and the needs of the region. In the near future, the university will expand to accommodate 12 Faculties in all with more than 5000 students. The mission of SAU is to go beyond the horizons of knowledge and learning by inculcating values of togetherness among students. In a world, which on one hand is marked by globalisation and yet is unable to break away from the shackles of the nation-state, SAU will strive to dissolve borders in a region that shared a common history and come together by trying to overcome the limitations of the present and foresee a possible and progressive future.
SAU is situated in New Delhi, the capital of India. New Delhi is the preferred starting point for the popular Golden Triangle tour that comprises of New Delhi, Jaipur and Agra.
How to reach
The University is located on Satya Marg, between its intersections with Vinay Marg and Niti Marg. The nearest landmark is the Yashwant Place Market. The nearest metro station is Lok Kalyan Marg on the yellow line of Delhi Metro (about 3 km from SAU), from where you can hire an autorickshaw to reach the venue. (If using Google Maps or any other navigation device to reach the campus, please make sure that your destination is South Asian University at the "Akbar Bhawan, Chanakyapuri" campus, and NOT the under-construction campus at Maidangarhi.)
From Airport:
If you are arriving by air, you will arrive either at Terminal 3 or Terminal 1, which are at a distance of 15 km and 10 km from SAU respectively. Once you collect your baggage, come out of the terminal building. Just outside you have counters for radio taxis (Meru/Mega/Easy cabs). Give them your destination address and board a taxi. They will charge you by the meter. There is also an alternative of pre-paid yellow and black taxis, managed by Delhi Police, which can be booked from both outside as well as inside the terminal building.
From Railway Station:
In case you are arriving by rail, you will arrive at either New Delhi station, or the Old Delhi Railway Station, or Nizamuddin, which are at a distance of around 10 km, 14 km and 9 km from SAU, respectively. Pre-paid taxi and auto-rickshaw booths, managed by Delhi Police, are available outside both sides of New Delhi Station (Ajmeri Gate, outside platform no. 16 and Paharganj, outside platform no. 1), Old Delhi Railway Station as well as both sides of Nizamuddin. Come out from the Railway Station and go to the pre-paid taxi or auto-rickshaw counter. There is also an alternative of Delhi Metro yellow line from New Delhi or Old Delhi Railway Stations, which will take you to Lok Kalyan Marg Metro Station (at a distance of about 3 km from SAU) from where you can catch an auto-rickshaw to SAU.
Venue:
The Workshop Venue is:
ISDA 2017, WICT 2017, HIS 2017 and NaBIC 2017
FSI Hall
South Asian University (SAU)
Akbar Bhawan, Chanakyapuri
New Delhi - 110021
Phones: +91-11-24195277
Google Maps Venue Link: