Social Activities
Please complete the following form http://goo.gl/bN2E8i
Gala Dinner, Dec. 5, 2013
Restaurant Spectacle Shéhérazade
Dinner with oriental and folk dances accompanied by typical music
In a beautiful setting with shimmering colors and unique designs and typical oriental nights, tables piled high with traditional delicacies and specialties of the Tunisian and Mediterranean cuisine and await gourmets and guests of Medina Mediterranea for an unforgettable evening dinner shows performed by top chefs.
Life palace, scene of 1001 nights. Perfume, dance 7 sails, Mystery Harem ... Moments of escape are available to you by artists and choreographers in a dream.
Menu: La Goulette
Rich mezza
Mechouia salad, Tunisian salad, octopus salad, chicken Pann Spoiler, Kammounia cuttlefish
Mini Menina tagine, Finger Thon ricotta, Beignert Shrimp
*****
Chorba Frik fish and lemon confit
*****
Goulettoise Dorade fish
*****
Fruit Basket
*****
Mint tea + Water + 1 soda / person
Note: Alcohol is not available.
Extra ticket: $50 – 40€ / person
Please contact <habib.kammoun@ieee.org> if you need special meals.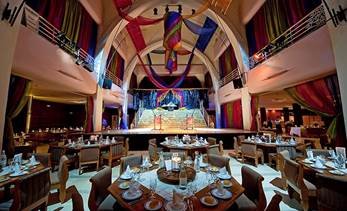 Half Day Excursion
From Yassmine Hammamet to Carthage and Sidi Bou Said
Date: December 4, 2013
Time: 08:00-13:00

Departure to Carthage and remainders of the splendours of Tunisia's past. There will be visits to the gigantic Punic Ports, the Antonin Baths, the Tophet as well as the Theatre.
Who has not heard of Hannibal and this city who dared brave the might of Rome? Now the ruins of both these great empires lay open to the sun and wildflowers. Declared a national monument the town of Carthage and nearby Salammbo abound in vestiges of the Punic and Roman empires, baths, dwellings, temples, shrines and the fabulous naval port of the Carthaginians.
Continuation to the Moorish village of Sidi Bou Said with its immaculate white and blue houses. The village has managed to preserve its charm and its peacefulness.
Free time in Sidi Bou Saïd to sip a mint tea at Café Sidi Chabaane or stroll along the narrow streets to see the magnificent view from the cliff.
Rate: 30 Euro / Person
Excursions option: rates apply from a minimum of 12 persons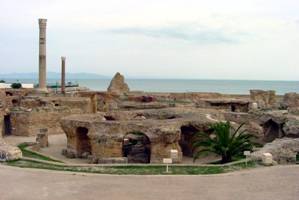 Note: if you would like to visit other touristic places, please don't hesitate to contact <habib.kammoun@ieee.org> to arrange your private excursion.
For more information about the nearest touristic places: http://goo.gl/N8OWX0